Even if you live in your RV year-round, there are still times when you need to step away from it. During these times, you can avoid extra maintenance and other issues simply by using a cover. Covers come in several types and sizes and offer various strengths of protection against many damaging forces, including rain and other precipitation. Some covers also come with extra accessories that can provide further protection. The best covers can cost several hundred dollars, so it's wise to get only what you need to not waste money.
In this article: Classic Accessories Waterproof RV Cover, North East Harbor Waterproof RV Cover and RVMasking 2022 Waterproof RV Cover
Waterproof vs. water-resistant
RV covers typically use the terms waterproof and water-resistant interchangeably. This is because, in most cases, both are technically true.
To understand why, first consider the terms' definitions:
Waterproof means something is entirely impermeable to water.
Water-resistant means something can resist penetration up to a point.
RV covers typically use a layer of waterproof membrane in their construction. However, that membrane isn't in 100% of the cover. Areas like the straps and zippers are the weak points, plus wind has a knack for flinging water to places it otherwise can't get to. So, covers are overall just water-resistant, though some are more resistant than others.
Drivable RV types
When you think of RVs, you likely think of vehicles that are driven rather than towed. These drivable RVs come in three classes:
Class A RVs, also known as motor homes, are the largest available. They're large enough to hold an entire family and the most comfortable and spacious.
Class C RVs are also known as motor homes like class As, but they're on a smaller scale. Some can still hold a small family, while others can hold two or three people.
Class B RVs, also known as camper vans, are more compact than class As and Cs. They're usually best for one person, though they're still big enough to house a kitchen, a bathroom and a bedroom.
Towing RV types
In addition to drivable RVs, there are also five types that need to be towed behind a standard vehicle.
Expandable trailers are among the smallest towable RVs, though they have the unique function of being expandable. This makes them the easiest to tow while still offering decent living space. They do, however, have a more laborious setup and takedown.
Lightweight trailers are roughly the same size as expandable trailers when hitched to the car, but they don't get bigger when it's time to put down roots. This makes them perfect for solo or duo travelers with small vehicles.
Travel trailers are large enough to house two to four people. They need a stronger vehicle to tow them than a lightweight trailer requires.
Fifth wheels are the largest towed RVs. They are able to house about as many people as the vehicle towing them can hold during travel. They're perfect for people who would otherwise drive a class A but want to be able to make trips away from camp.
Toy haulers come in class A, class C, travel and fifth wheel variants. Each has extra space for holding smaller vehicles, such as motorcycles and ATVs.
Size
Once you've narrowed your shopping to the right cover type, you need to get the right cover size. It's important to get a cover that's as close to matching your RV's size as possible to avoid giving the wind material to pull and billow. If you can't find one that matches exactly, get one that's slightly larger rather than slightly smaller.
To find the right size, measure your RV's width at both the rear bumper and the windshield, its length from bumper to bumper and its height from the midwheel to the roof.
Cost
Waterproof covers can cost as little as $50 or as much as $350-plus, though most typically cost $200-$300.
Best waterproof RV covers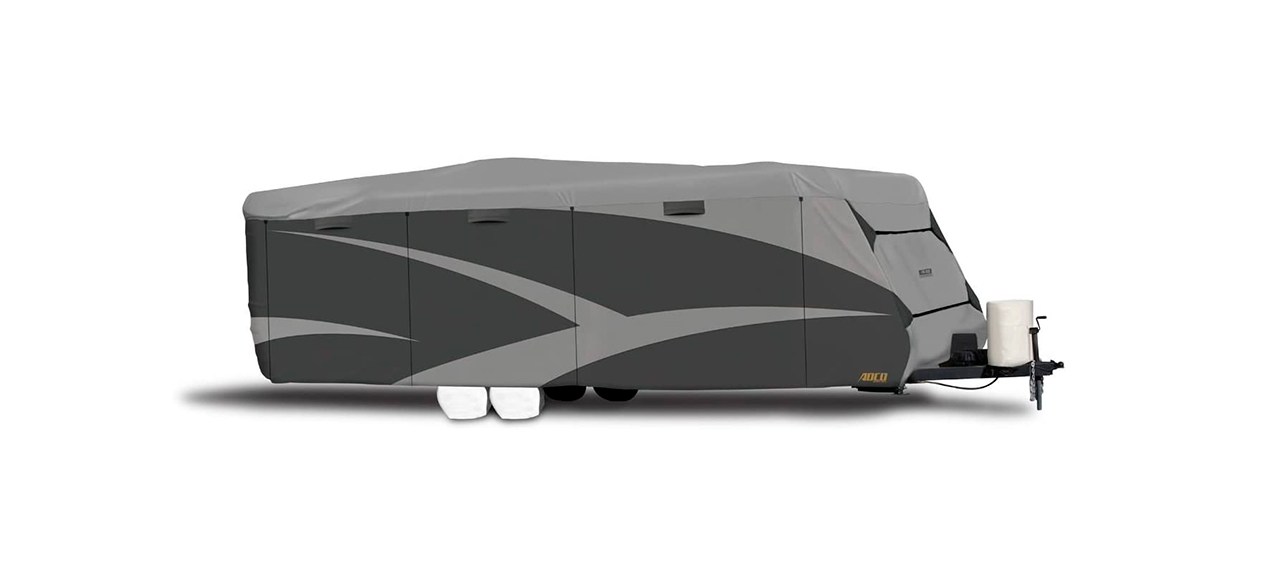 This cover is for travel trailers. It has a zippered entry panel and several air vents, so any water drips have a place to evaporate away. It comes in 10 sizes.
Sold by Amazon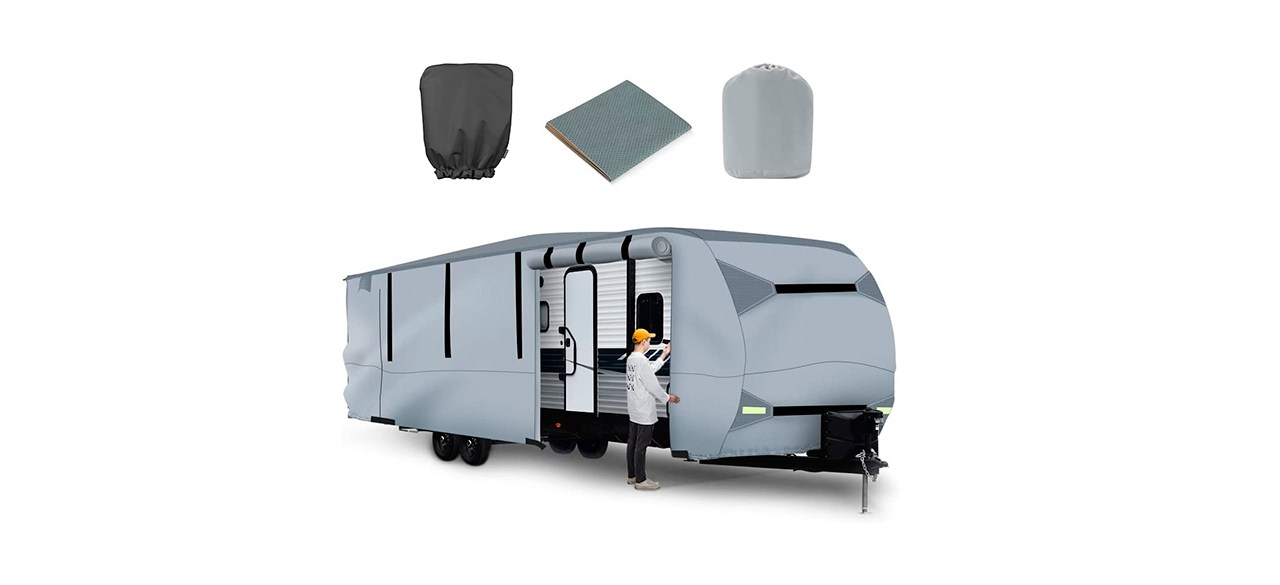 This cover also boasts ultraviolet light protection and has a front tag, so you know which end goes where. It comes in four sizes.
Sold by Amazon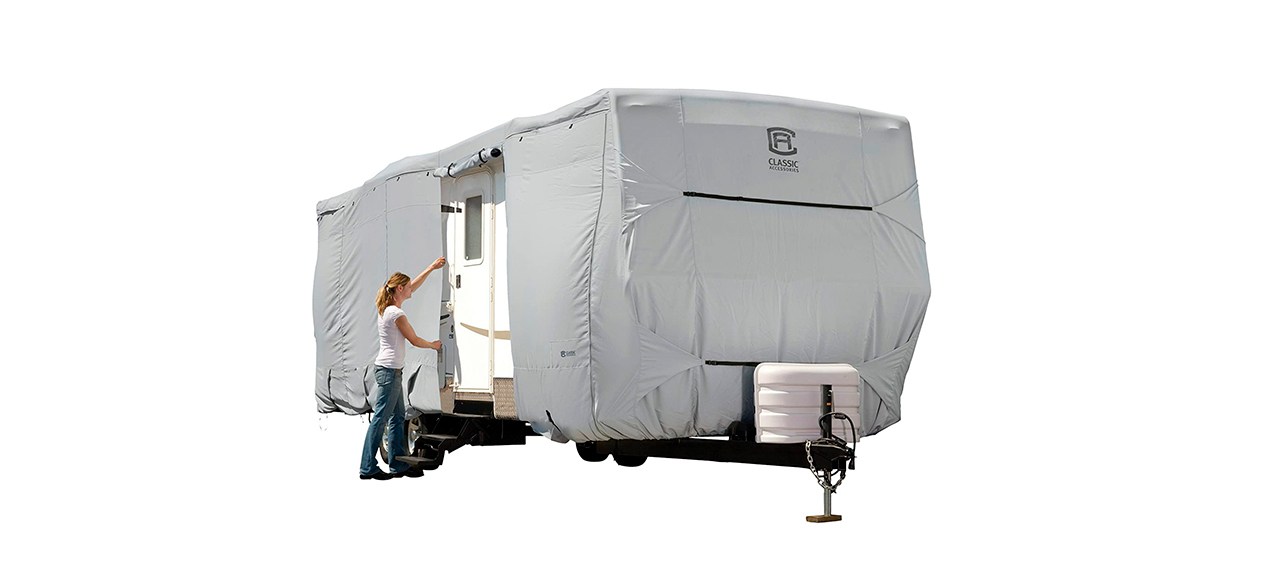 Classic Accessories Waterproof RV Cover
This cover also features dirt and sun protection, and it has air vents in order to dry quickly. Adjustable tension panels help eliminate excess space. It comes in 10 sizes.
Sold by Amazon and Home Depot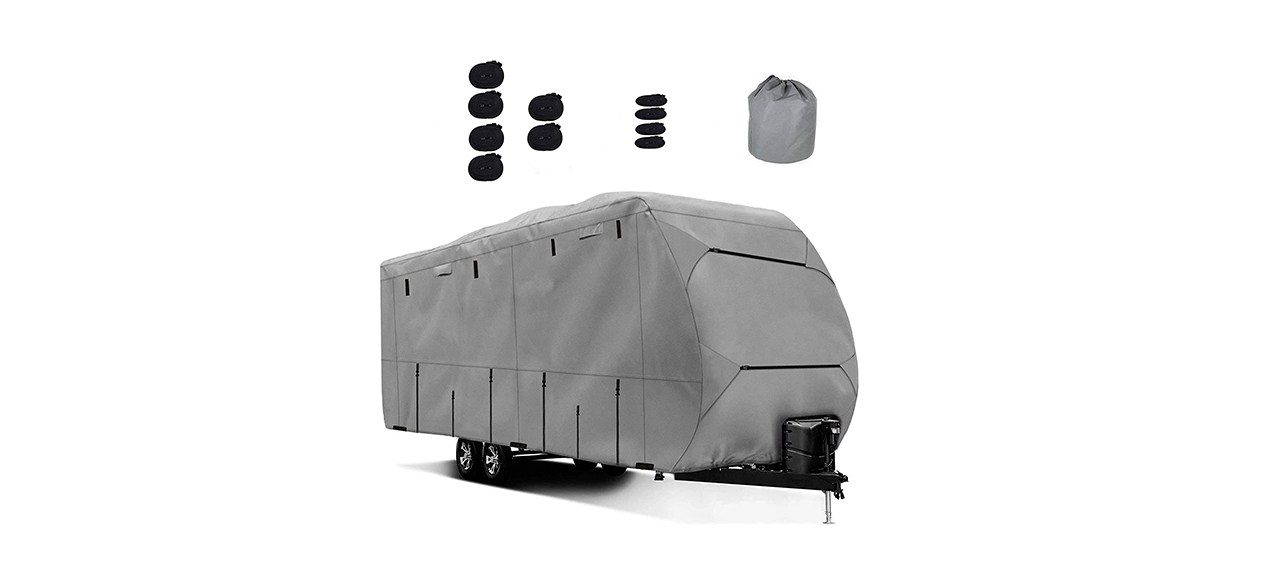 Indeed Buy Waterproof RV Cover
This cover comes with a storage bag and multiple windproof belts to prevent your cover from going anywhere it isn't supposed to. It comes in five sizes.
Sold by Amazon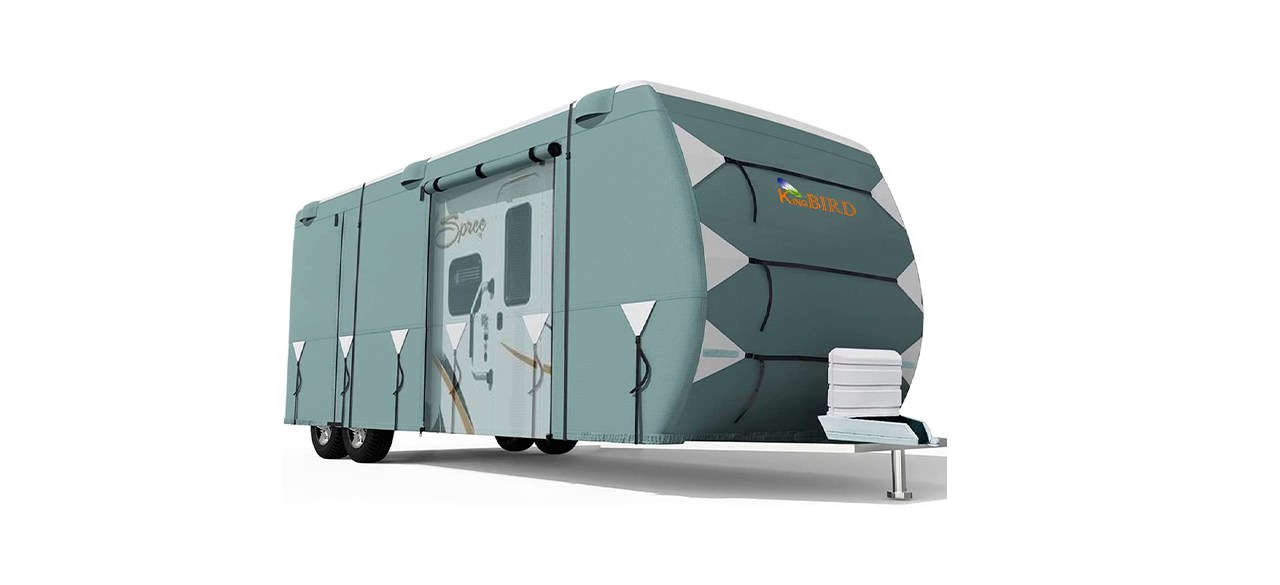 This cover uses five layers on top and three on the sides to keep water out. It has a two-year limited warranty and comes in eight sizes.
Sold by Amazon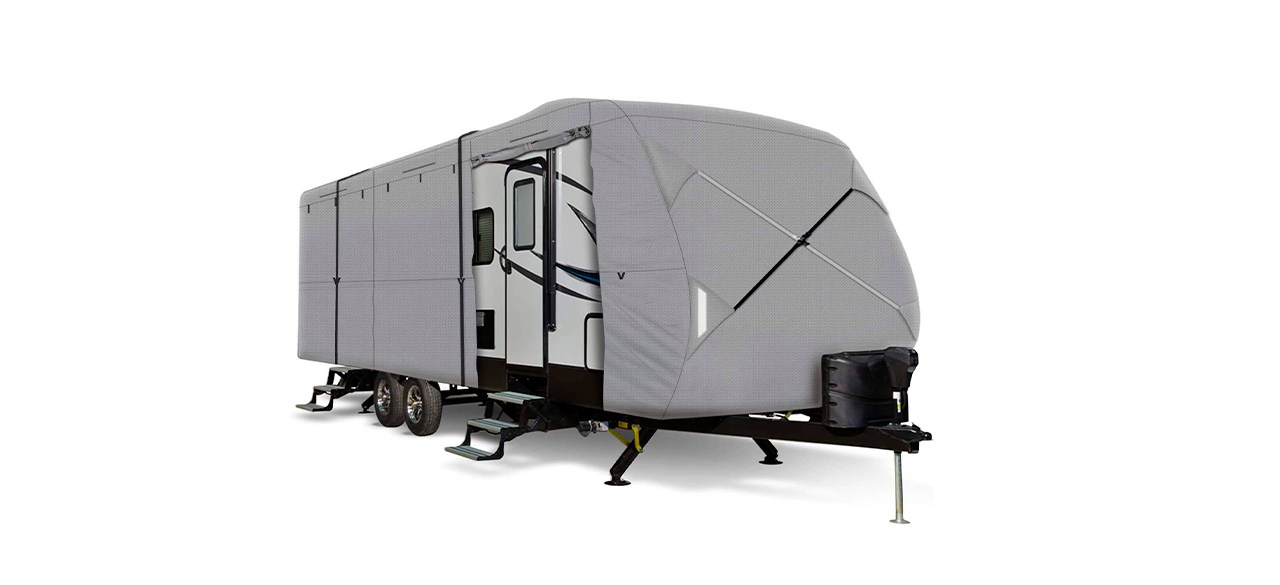 Leader Accessories Waterproof RV Cover
This cover uses crisscross straps to keep it flat and tight, no matter the strength of the wind. It comes in 10 sizes.
Sold by Amazon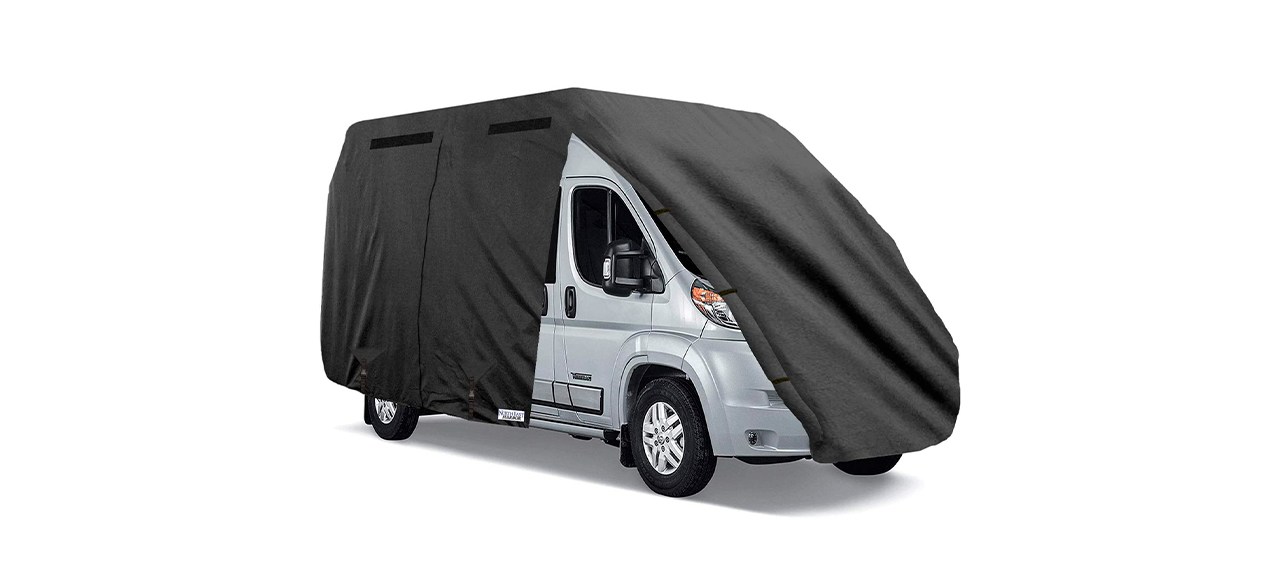 North East Harbor Waterproof RV Cover
This camper van cover has an elastic hem to make it easier to keep it in place while you use the straps to secure it fully. It comes in two sizes.
Sold by Amazon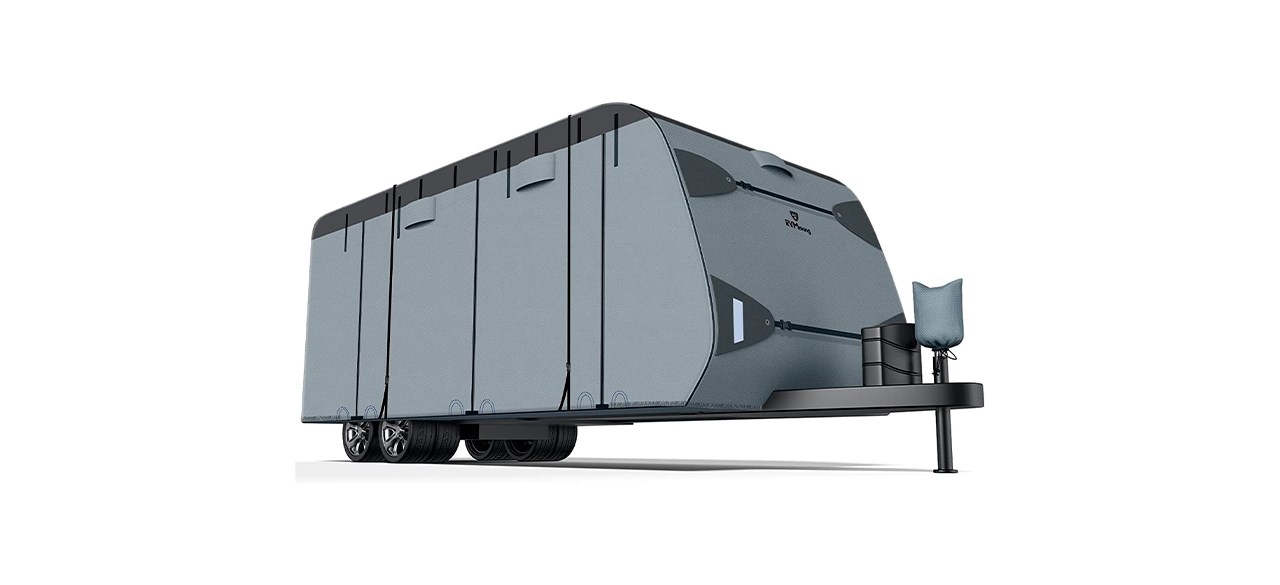 This cover has adjustable buckles and eight bottom straps to keep it firmly secured. It has a three-year warranty and comes in 10 sizes and three colors.
Sold by Amazon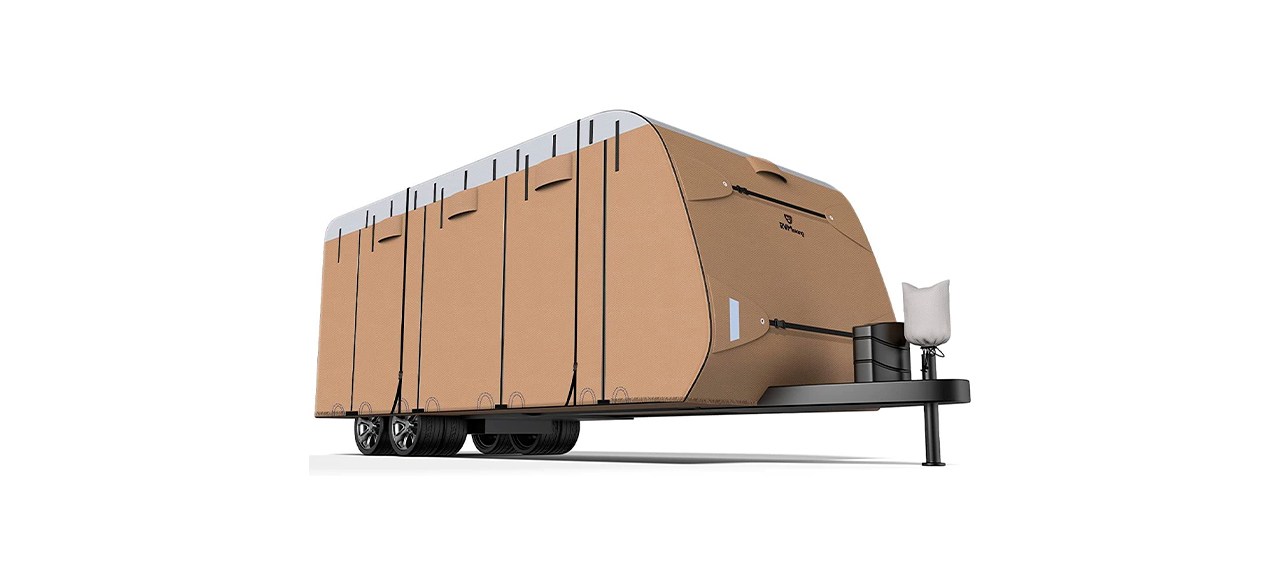 RVMasking 2022 Waterproof RV Cover
This cover is recently updated with minor tweaks to improve an already excellent cover with better UV protection. It comes in 10 sizes.
Sold by Amazon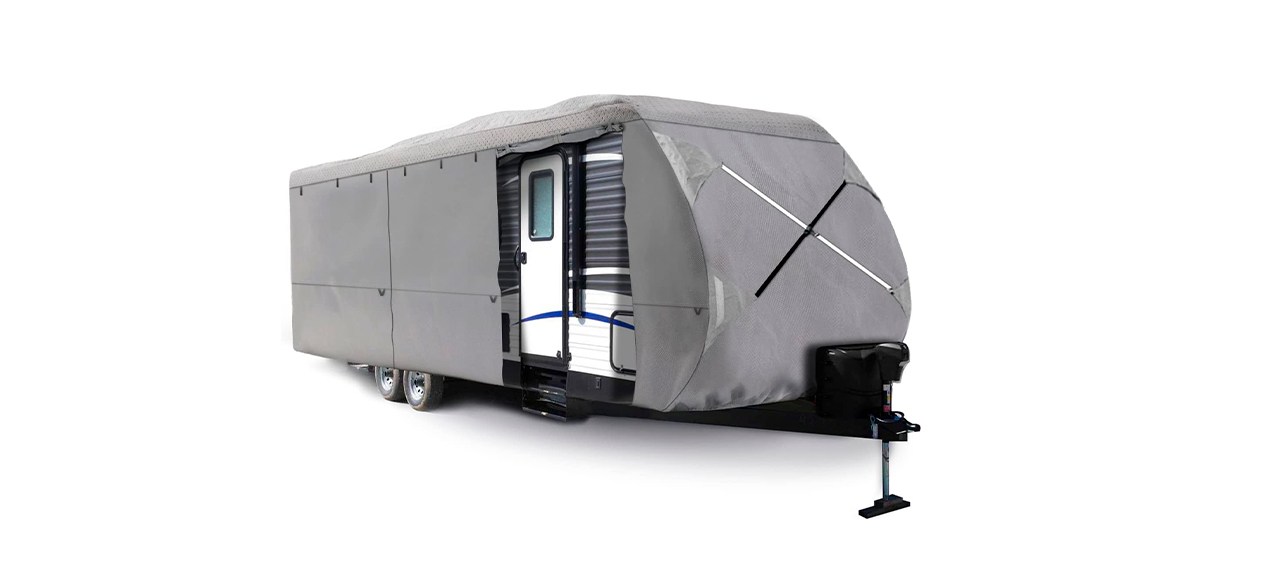 This cover uses rip-stop fabric to help prevent tearing or breaks, and it has an anti-UV coating and a waterproof layer. It comes in nine sizes.
Sold by Amazon
Want to shop the best products at the best prices? Check out Daily Deals from BestReviews.
Sign up here to receive the BestReviews weekly newsletter for useful advice on new products and noteworthy deals.
Jordan C. Woika writes for BestReviews. BestReviews has helped millions of consumers simplify their purchasing decisions, saving them time and money.
BestReviews spends thousands of hours researching, analyzing, and testing products to recommend the best picks for most consumers.
Copyright 2023 BestReviews, a Nexstar company. All rights reserved.