EIN Presswire | Newsmatics
New Podcast from Doha Debates Sparks Conversations about Hot-Topic Issues
News provided by
EIN Presswire
May 17, 2023, 11:25 AM ET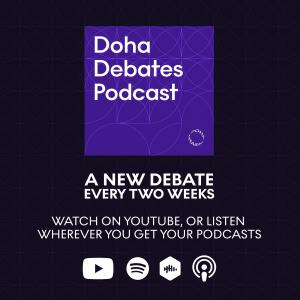 "Doha Debates Podcast" features diverse experts thoughtfully debating issues that dominate internet culture, politics and news
Video games as an art form shouldn't just tell people the stories they want to hear; they should tell stories that are difficult and make them stop and think."
— Doha Debates Podcast Host Karen Given
WASHINGTON, DC, USA, May 17, 2023/
EINPresswire.com
/ -- Does having money make you happy? Are some sports too violent for children? Is it time to delete all our social media apps? Does mass surveillance make us safe or infringe on our privacy?
Launching this week, the "
Doha Debates Podcast
" explores these urgent issues and more, as expert guests representing different—and opposing—viewpoints engage in a spirited but respectful debate in an attempt to find common ground. Podcast guests and a rotating line-up of acclaimed hosts hail from countries around the world including Nigeria, Pakistan, Ghana, South Africa, the UK and the US.
The biweekly podcast is a co-production of media organization Doha Debates and FP Studios, the podcast production arm of Foreign Policy magazine. Recorded for audio and video, all episodes will be available at DohaDebates.com/podcasts, on all major podcast platforms and on Doha Debates' YouTube channel.
Journalist and former host of NPR's "Only a Game" Karen Given hosts the first episode, "Virtual violence: Do video games change our behavior?" Guest Josh Ferme, a presenter and podcaster with a background in psychological research, asserts that "There are many positive things video games can do—telling you compelling stories about the world. Video games as an art form shouldn't just tell people the stories they want to hear; they should tell stories that are difficult and make them stop and think."
Award-winning South African game designer and writer Bahiyya Khan agrees that video games are an art form, but "not when it starts becoming irresponsible. … Knowing, for instance, that your fan base are largely male, and—not to stereotype, but a lot of the time, male game players have social anxiety or they don't get out that much, so the only interactions they do have are in this world that's so insular. … If you're only interacting with something like that, it can be really damaging if [it shows] graphic violence against women or graphic violence in general."
Other episodes in the first season of the "Doha Debates Podcast" explore similarly provocative questions like "Is eating meat an act of cruelty toward animals?," "Should we be putting a moratorium on gas-powered cars?" and "Are some sports too violent for children?"
Guests on the latter episode include international rugby player Babalwa Latsha and Nigerian American physician, forensic pathologist, and neuropathologist Dr. Bennet Omalu (famously played by Will Smith in the 2015 film "Concussion").
Additional first-season hosts include Ghanaian broadcast journalist Afia Pokua, Pakistani author, journalist and "This American Life" contributor Mariya Karimjee and Nazanine Moshiri, former journalist and Crisis Group's senior analyst for climate, environment and conflict in Africa. Young changemakers from across the globe, including participants in the Doha Debates Ambassador Program, further the discussions by posing questions to each guest.
"At Doha Debates, we endeavor to change the very definition of debate, from a 'war of words' to a process that encourages multiple perspectives, respectful dialogue and collective reasoning," said Doha Debates' managing director Amjad Atallah. "We're honored to team up once again with FP Studios to bring our signature approach to a podcast that takes on some of the most contentious issues of our time, and to demonstrate that honest, civil discussion is the only way to bring about meaningful, lasting change."
Doha Debates' and FP Studios' previous podcast collaborations include "The Negotiators," a behind-the-scenes look at historic high-stakes negotiations across the globe, and "The Long Game," which examines the power of sports to change the world for the better.
Atallah, director of innovation Japhet Weeks and deputy managing director Jigar Mehta will executive produce the podcast for Doha Debates. Podcast producers include Katrine Dermody for Doha Debates and Claudia Teti, Rosie Julin and Daniel Dadzie for FP Studios. The managing director of FP Studios is Rob Sachs.
Doha Debates
Website: DohaDebates.com
Twitter: @DohaDebates
Instagram: @DohaDebates
Facebook: Facebook.com/DohaDebates
YouTube: YouTube.com/DohaDebates
Doha Debates media contact
Sumi Alkebsi
Communications Manager
Phone: +1-202-609-7916
Email: salkebsi@dohadebates.com
About Doha Debates
Doha Debates believes the world will be a better place if we make room to listen to and understand all sides of an issue and seek consensus together. As divisions on social, geopolitical, scientific and other issues become more entrenched, people retreat into echo chambers and refuse to listen to a spectrum of perspectives. We believe that positive, meaningful change only happens when we build bridges among a diversity of viewpoints.
Even on the most complex and divisive problems, with the right tools, empathy, and determination, we can learn from each other and walk away with a more robust and nuanced understanding of an issue. Inspired by Majlis-style debates, which creates a welcoming space for discussion of diverse views, we engage with young people from every region and country who are invested in solving urgent global issues. Through our programming and content, Doha Debates provides intellectual and practical tools to empower a new generation of leaders who can bridge divides and resolve differences. Learn more at DohaDebates.com.
About Foreign Policy
With over 50 years of award-winning journalism and analysis, Foreign Policy is devoted to insightful and impartial global affairs coverage. Foreign Policy reaches an international audience of tens of millions of people and serves as a trusted source of reporting and commentary for leaders across government, business, and education. Learn more at foreignpolicy.com.
Sumi Alkebsi
Doha Debates
+1 202-609-7916
salkebsi@dohadebates.com
Visit us on social media:
Facebook
Twitter
LinkedIn
Instagram
YouTube
NOTE: This content is not written by or endorsed by "WJHL", its advertisers, or Nexstar Media Inc.
For inquiries or corrections to Press Releases, please reach out to EIN Presswire.